This is an old project (look how little Macy is!), but since it's kinda sorta Valentine-y…
Does your kid have an old pair of jeans with holes? Or, does she like to wear something festive?
Take a seam ripper to the entire crotch seam on an old pair of pants.
Just do it.
I know it sounds scary, but it'll be worth it.
Once you've ripped out the entire seam, you can reach and maneuver to applique or patch or decorate however you want. I like to use Wonder Under and the method I describe here.
Add as much detail as you want.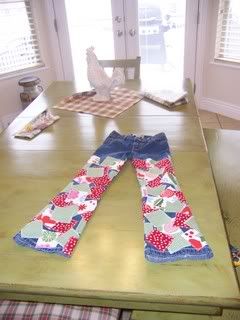 After you've embellished to your heart's content, turn the pants inside out and sew the crotch seam back up. You'll probably want to zig zag or serge to finish the edges because denim FRAYS.
These pants were too short, too, so we made them capris.
And the doll's skirt? Made out of the piece I cut off.

Please follow and like us: