My guest post over at Kristen Duke Photography on Sunday was the motivation I needed to finally get my crap together and complete a project I've been meaning to do for ages.
I saw the idea online (Google it, there are a bunch of images to inspire you) and even bought the clipboards.  But, I'm a procrastinator.  And the pictures I had up in that space were great…other than the fact they were missing a kid.
They're also a little tame for my current style.  My old age is making me gaudy, I think.

I usually make paper cut outs in the shape of each frame and tape them to the wall to figure out my arrangement.  Since I only had 2 shapes of clipboards and I was hanging them in straight rows, I decided to try a different method this time.
Using painters tape, I taped off an area on my rug the same size as the space above my piano.
Then I laid out my clipboards and played around with the spacing until I had an arrangement I liked.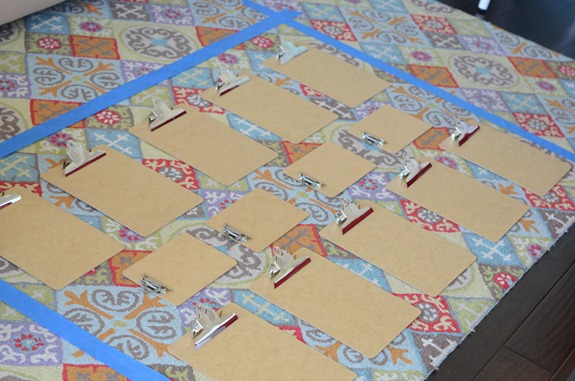 Then I measured how far from the top tape line the picture hangers would need to be placed and transferred those measurements to the wall.
The small clipboards that are hung sideways are propped up on 2 finish nails.  I used some of that white rubbery sticky stuff (that I can never thing of the name of) to stick the top corners to the wall, just in case.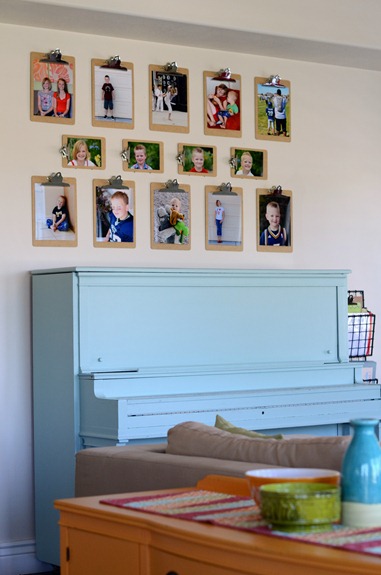 I like the idea of hanging certificates and artwork and other schoolwork on the clipboards as well and I'm excited to see the pictures change as our lives change.
Please follow and like us: