Oh hey there!  I'm not dead!  And, if you follow along on Facebook or Instagram, you might have seen that I even made some stuff last week.  I KNOW, RIGHT?
So, while I work on some project posts (and a delightful giveaway tomorrow!), I thought I'd share with you some of the stuff I'm loving right now.  These are all my opinions and I have not been compensated in any way to share them.  Clicking on the green product name will take you to Amazon, if you're interested.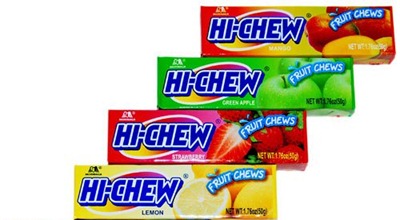 A kid in Macy's class last year introduced her to these and now I can't stop eating them.  My favorite flavors are Mango, Green Apple, and Peach…in that order.  They're chewy, but not sticky and I seriously get a pack every time I go to the gas station.
It's getting cold and dry 'round these parts, which means that one or more of my kids are licking/sucking on their lips, leaving that big awful scabby situation.  Yuck.  I've tried everything from Aquaphor to Lanisnoh (yes, the stuff for nursing bosoms).  A mom of one of the boys on Keller's team works for the Steal Network and mentioned they had featured Monkey Balm in the past and that it was magical.  She brought me a tube of this stuff on Saturday morning and Bennett's face is as good as new.
BC bought me a delightful new purse for my anniversary last month and I love it SO MUCH that sometimes I can't bear to exchange it for my camera bag when I need to take pics.  So, I got an Ape Case.  My camera fits, even with my big daddy football game lens, and it's well protected.  I throw the whole Ape Case in my bag and I'm good to go.
This is for sure the dorkiest product on the list.  I picked mine up on 50% off of clearance at Forever 21 for $7.  You plug it into your cell phone and talk on it.  (I kind of wish it had one of those giant 1980's shoulder rests on it, just for comedic effect.)  I'm a giant klutz and my cell phone often gets dropped when I'm walking and talking.  Or my face hits the touch screen and does weird things.  And let's face it…you can't wedge a super slim cell phone between your shoulder and your face quite the way you could with an old telephone, right? 
So, that's what I'm loving right now.
What are you loving?
See you tomorrow with a giveaway of something else that I'm loving that I think you'll love too!
Please follow and like us: