The nice folks at AccuQuilt sent me a GO! Cutter to try out. It arrived Thursday and I could hardly wait to get started. Fortunately, my friend and neighbor (she still harasses me about referring to her as *just* my neighbor last time I mentioned her) Tam over at Sew Dang Cute sells fabric….like at her house. Friday morning she and I plopped down on the floor in her sewing room and surrounded ourselves with bolts of fabric and started talking and diagramming.
Here's what I came up with:

(Thanks to my lovely assistant Keller for being the quilt holder.)
I used both the GO! Critters set and the GO! Strip Cutter –2 1/2" for this quilt, along with a couple of other random cuts.
The finished size of this quilt is about 36" wide by 41" tall…a good baby/throw size. All of the strips were cut the width of the fabric, so there's pretty much no waste.
Using your GO! Cutter and the 2.5" Strip Cutter, cut 4 2.5" strips of the white fabric (W). You'll also need a 15.5" strip of the white fabric for the center section (BIG WHITE).
Cut 2 3.5" strips of your blue fabric (B). I used Just Dreamy Blue Dots.
Cut 2 5.5" strips of your floral fabric (F). I used Just Dreamy Cream Large Floral.
Using your GO! Cutter, the Critters set and fabric with fusible web already attached (yes, really!!!), cut out 3 butterflies and 3 dragonflies (more or less….personal preference). The red is Make Life's Texture Apple. The orange is Just Dreamy Orange Dots.
You could, of course, trace and cut out the appliques the old fashioned way…it'll just take you WAY longer.

Using your GO! Cutter and the 2.5" Strip Cutter, cut 5 2.5" strips for binding. I used Make Life in Shine Apple.
I backed the whole thing with some more of the Just Dreamy Blue Dots (about 40").
Assemble your strips in the following order, using 1/4" seams:
W F W B (BIG WHITE) B W F W
Press the seams towards the non-white fabrics.
Position your Critter cut outs as desired and fuse in place. Stitch around the edges. I used a tight zig zag. I'm not a fancy shmancy quilter, though….I usually just make stuff up as I go. If you know the "correct" way to do this, do that instead.
Your quilt top is done!
Quilt as desired.
I used a walking foot for the lines in the white strips. I used a darning/free motion foot for the squiggles in the large white section. I'd never used either before (insert embarrassed face here). There's a bit of a learning curve on the free motion foot, but I'll definitely be using it more often.
I attached the binding using this method, from Moose on the Porch Quilts.
I love it a lot.
I've also got the 6 1/2" GO! Tumbler. I think I'll play with that one next. I feel like the giant stack of Nicey Jane sitting on my sewing table may finally have a purpose!
Thanks, AccuQuilt, for a fun new toy!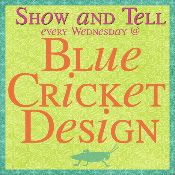 Please follow and like us: