In 3rd grade at my kids' elementary, they get to participate in a wax museum.  Each kid reads a biography and then dresses as that person for an oral report.  The parents (and the rest of the school) get to come see all the kids in costume at once, posed and holding still.  There's the "wax museum" part of it.  If you've been reading this blog for a really, really long time (hint: my mom), you might remember Macy's Helen Keller ensemble.
Keller came home and announced that the biography he'd selected was for Steve Nash.  Um, OK?  The next sentence was "So you can just buy me a jersey or something…"  Sorry, no.  I love you but this is a book report.  I'm not spending that kind of $$$ for a book report costume.  I knew I had to get creative.
Supplies:
2 cheap-o t-shirts.  Mine came from Michael's and were 2 for $5.  One was an adult size small and the other was an adult size XL.
Avery Personal Creations InkJet Iron-On Dark T-Shirt Transfers, White, Five Sheets per Pack (03279)

(I used 2 sheets out of the 5 sheet pack.)
You're going to make the shorts from the XL shirt.  Fold it in half and use the existing hem to save yourself some time.  I traced a pair of Keller's shorts and then just cut a little bigger for seam allowances.  (Who am I kidding?  This is a costume that will be worn for under 2 hours.  I didn't trace.  I just cut.)
Be sure to include an extra 2" or so at the top for the waistband casing.  Sew the inner seams on each leg and then sew the crotch seam.  Make the waistband casing, insert some elastic and you're done.  Seriously…5 minutes.
For the "jersey", I cut both sleeves off the size small shirt about where the (really wobbly) yellow line is in the picture below.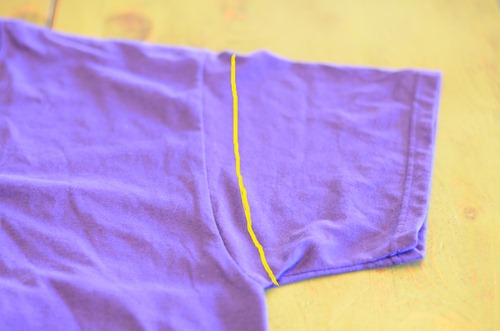 I pressed them under along the seam and stitched them in place so they wouldn't flip back out. You could hem the t-shirt at this point if you want, but I just made my kid tuck it in (back to that whole "wearing it for less than 2 hours" thing).
For the Suns logo, I used the print and cut feature in my Silhouette Studio software.  You can ABSOLUTELY do it without, you'd just cut out the shape with scissors.  I've said it before and I'll say it again:  My Silhouette has made me lazy. 
Here's a brief how to if you have a Silhouette and want to do it that way:
Find an image of your team's logo.  Open it in Silhouette Studio.  Display your registration marks now so you don't get all the way done and discover you made it like a millimeter too big.  Trust.  Once you've done that, you're going to want to use the TRACE function (red arrow) and then select an area to be traced (green arrow).
Adjust your trace settings (bottom right hand side rectangle) until you get a good outline and then select the "TRACE OUTER EDGE" option (yellow arrow).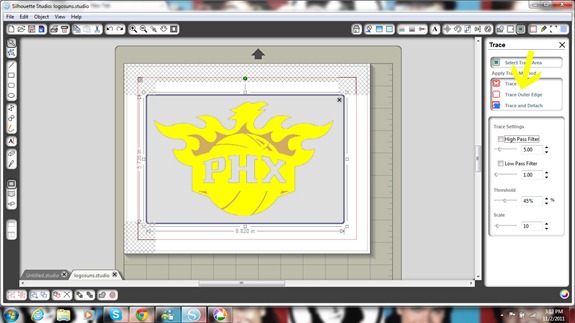 I've moved the logo out of the way so you can see what you just did a little more clearly.  You can leave it put if your eyes are better than mine.
That line will cut precisely along the edge of the logo.  I wanted a little white border, since my shirt was dark, so I used the "OFFSET" function.  It's under the "OBJECT" menu in the upper left hand corner.  You can then change the thickness of the white border (blue arrow).
I still have the logo out of the way for the sake of tutorial clarity, but you'll want to leave it put in real life.  The last step is to change the inner most line so that your Silhouette will not cut it.  You use the "CUT STYLE" menu (orange arrow) for this.
Change the inner line to "no cut" and leave the outer line as "cut".  Here's what your finished design will look like before you print it from Silhouette Studio.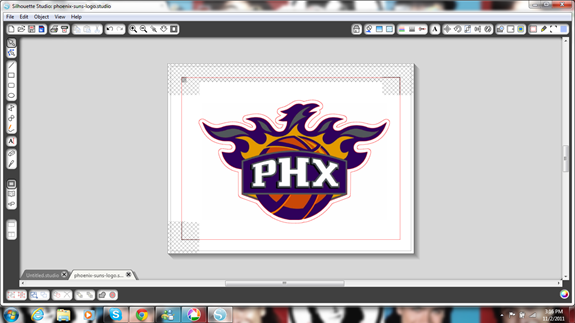 Print it on the Avery transfer paper and then put it on a mat and run it through your Silhouette.  I used the medium cardstock settings.  Apply it to your shirt following the package directions.
Put your name and number on the back, if you want.
Not bad for around $8, right?
Please follow and like us: