If you've ever asked me what BC does for a living, you probably remember me saying "I don't know."  It's true…I don't.  Here's what I do know:
There's a crate shop involved.
This crate shop is the source of LOTS of scrap lumber.  And pallets.
So, when I couldn't figure out a way to make my initial dreams of a corrugated metal headboard be non-tetanus inducing, I decided to go the free route and use some pallet wood.  I thought the rustic wood would be a nice contrast to the white board and batten and that it would go well with the vintage car vibe we're going for, too.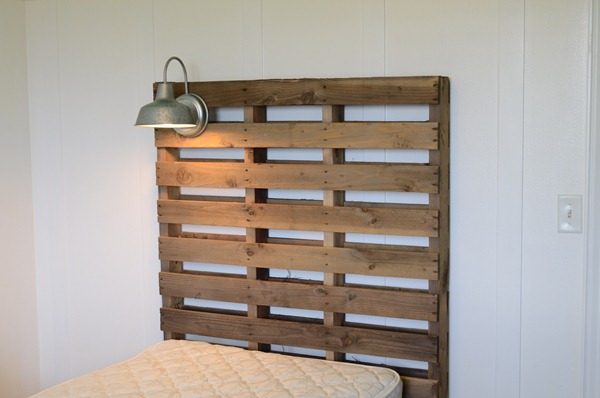 BC came home with a double sided 42" pallet.  Apparently both of those characteristics are rare?  (Shipping dork alert!)  I loved the look of it so much that I decided not to rip it apart.
I found this fabulous light at Lowe's in the outdoor lighting section:
I bought a cord kit and wired the light to work as a plug in.  I'm not going to tell you how to do this, because I'm not an electrician.  You should probably consult one before you do this. 
I mounted the light to the pallet and loved it
but it needed some height.
I went for another cheap and easy solution.
BC cut me three 17" pieces of a 4X4 and a 42" long piece of 2X4.  We screwed the legs (the 4X4) to the 2X4 and then mounted it to the bottom of the pallet.
See?
The bed frame will be bolted directly into the 4X4's.
Whether or not I stain/paint/something that wood to make it the same color as the pallet has yet to be decided.  It'll probably depend on how visible it is once there's bedding on the bed…that's how I roll.  I'm also pondering another potential addition to the headboard involving something I got in the ducting section at Lowe's.
In the mean time, I wanted to remind you all about the $100 Lowe's gift card giveaway I'm running through noon tomorrow.  GO HERE to enter.
And while you're waiting to see what else I've done to the room/if you're the lucky gift card winner, head on over for your FREE Subscription to Lowe's Creative Ideas Magazine:
Disclosure:  Lowe's provided me with a gift card for this month's room makeover challenge.
Please follow and like us: